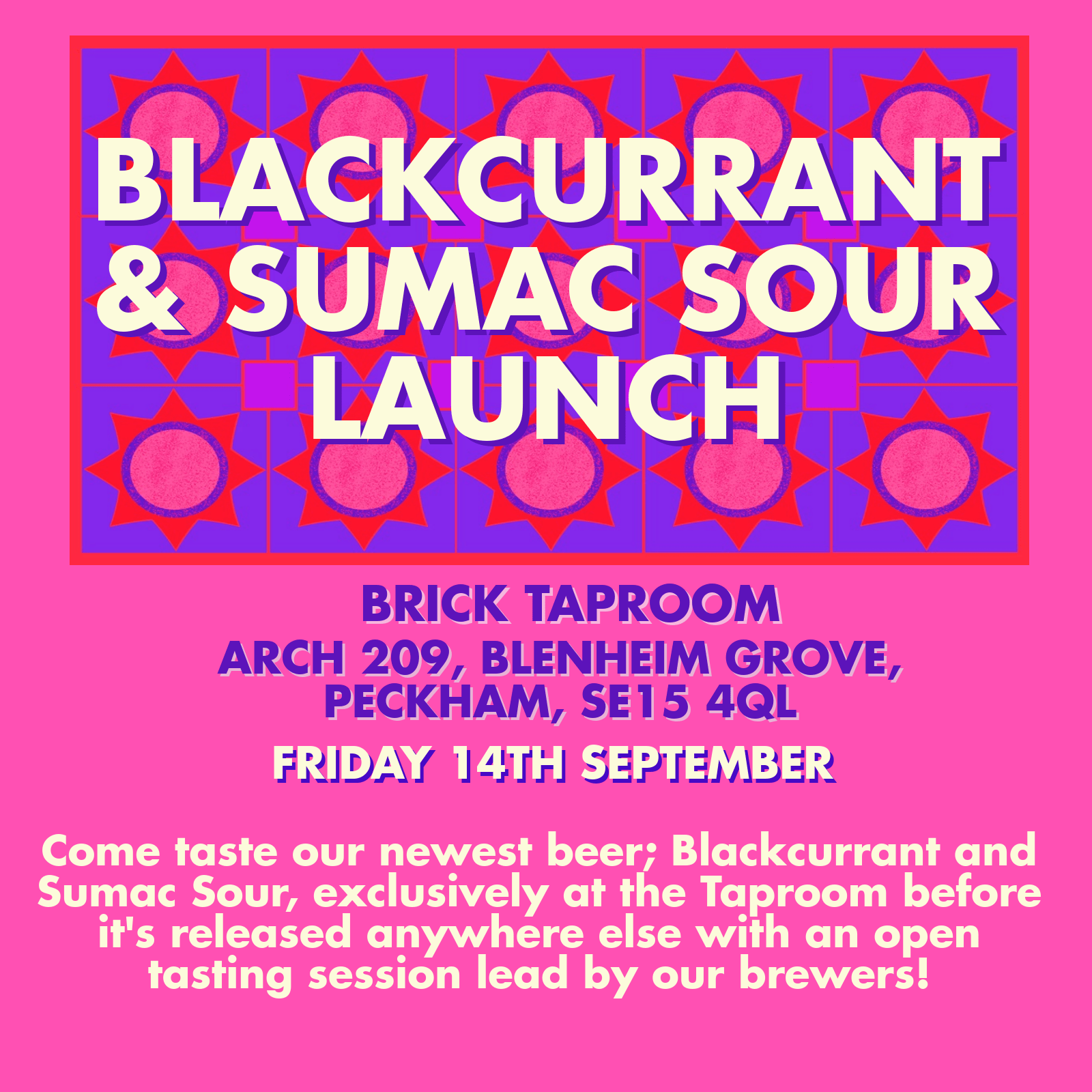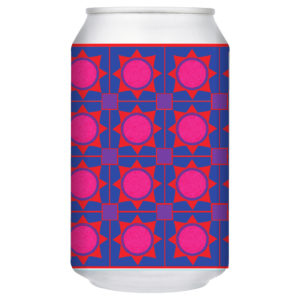 Our next sour is ready, being packaged and off to hit the shelves next week (W/c 17th September 2018), this time taking inspiration from our favourite cordial and a hint of the Middle East to create a juicy sour that packs a punch on taste as well as on the eyes!
Using blackcurrants and the unusual ingredient of sumac to produce a sweet and jammy sour, balanced perfectly by the tangy lemon flavour of ground sumac which will naturally enhance the tartness of the beer. The ingredients have of course also imparted an amazing colour into the beer also. Made from dried berries, sumac has an appealing lemon-lime tartness that can be widely used in Middle Eastern and North African cooking. In Iran, they use it as a condiment, putting it onto the table with salt and pepper. The sumac also adds a slight tart salinity, that doesn't quite push it towards gose territory, but helps to lift the fruitiness.
Welcoming a new designer for this beer's artwork, Danielle-Louise Watt is a Peckham resident and full-time creative working from a studio in Shoreditch. We love Dani's use of abstract shapes and colour that compliments the bright and colourful beer perfectly. For this particular label, Dani was inspired by the colours and shapes of the Middle East, using the ingredients as the colour palette and a stunning tiled effect so well-associated with that area of the world. Get to know Dani a bit better from the interview below…
What is your background and where did you grow up?
To most people's surprise, I'm from Essex! Born and bred. I don't really sound like it, but after a few beers the accent starts to come out. Being from Essex also means I come from a pretty standard working-class background. My dad's a carpenter, his dad was a tiler, and his mum was a French polisher, so I grew up around pretty talented and practical people. For years I planned on being a carpenter like my old man, but then one day I realised I could actually make a career out of making art which seemed a little more exiting. So I went on to be the first Watt in the family to go into further education!
What does a typical day look like for you…
I work full time in a studio, so I normally jump on my bike at the crack of dawn, dive into Shoreditch from Peckham, spend about 8 hours working with clients and my wonderful team on advertising campaigns and editorials, then I head back home to draw into the night (usually with something like Eastenders or Love Island on in the background). I spend approximately half an hour on the phone to my dad each night, unless I'm at a friend's house cooking dinner, or out for drinks in Peckham. I try to head back home now and again to see my 'Essex mates' but that gets harder and harder lately as I juggle full time work + making art. I suppose that's what comes with turning 30, the work life balance battle ensues.
How do you like to work?
As mentioned, with some kind of tat on the tv in the background. Ideally, I like to work in natural light so I do a lot of my drawing outside of the computer at the weekends when I can see the colours of my materials properly. Other than that, probably on the floor or on my bed. I need a lot of flat space when working with pastilles for commission, but a lot of my work lately has been from my computer and Wacom at my desk in the evenings which is a lot less messy.
What/who inspires you and your work?
Colour. I am such a sucker for a brilliantly chosen colour pallet. For a long time I was scared of working with colour, but now it's the thing that keeps me interested and wanting to make something so gorgeous but also sometimes garish I can't stop looking at it. I also look back to the Greats if I'm lacking in inspiration, there's nothing a day amongst my Picasso books or a museum filled with other such legends that won't get my brain working again.
What's your favourite spot in South-East London?
I've lived in South East London for so many years now that I have a lot of favourite spots (Mr Bao, Brick Brewery (obviously) Miss Tapas, EDT, South London Gallery, Warwick Gardens, Forza Win, Codfellas – shout out to those legends – I could go on…), but to narrow it down I'd say for the one place I go when I'm feeling a little off kilter and I need to be reminded that everything's ok would probably be The Prince Albert on Bellenden Road, on a Saturday or Sunday when the football is on. I'll probably have done my Lidl shop and in need of some respite, so if a game I want to see isn't on the telly I'll head down to one of the only pubs in the area that might be showing it, pick a chair close to the screen, and just take solace in that little piece of what feels like home. Either that or reading the newspaper in any of SE's gorge parks, but that only applies if the suns out, which apart from this summer is usually never!
You can see more of Dani's work here
https://www.instagram.com/daniellewatt/
To mark the occasion and launch, we are holding an exclusive tasting session at the Taproom this Friday 14thSeptember at 6pm to try the sour for the first time before it hits other shelves and taps. Lead by our Headbrewer, Pete, come find out a bit more about the beer and ask him any beery questions on your mind!
Keep an eye on our shop as the cans will be ready to buy from Tuesday 18thSeptember.