Peckham Session, 4.2%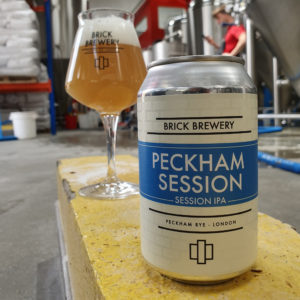 The newest addition to our Framing Range of beers, Peckham Session is back in stock this week after the first release flew out back in May. A 4.2% Session IPA, we wanted to create a light and easy-going IPA and just the beer we want to sessionably drink after a long, hot day in the brewery or cracking open on Peckham Rye. Talking a bit more about the beer is our Lead Brewer, Tom, as we continue to refine and improve on each release of Peckham Session…

"With Peckham Session we wanted to brew something heady yet balanced, showcasing new season Simcoe. With our hop allocation for this year we have split all of our varietals between Cryo and T-90 pellets. In this beer we use both to bring out maximum fruit as well as the classic necessary savoury dankness. Backed-up by Citra in the whirl; we're aiming for a classic, resinous US hop character.
Besides the hop-focus, our yeast for Peckham Session is unique. We decided to bring in a second house ale strain that ferments thoroughly at a leisurely rate whilst kicking out massive pineapple esters. We like to give this beer an extended maturation to ensure all of those intense aromatics are stabile in the right places. This should leave you with a huge whack of fruit bowl deliciousness and a clean finish." – Tom
We're really happy with the second brew of Peckham Session (packaged last week and out now) and after a few more tweaks on the water profile batch three is bubbling away."
Get Peckham Session from our online shop here.