3 Peaks Challenge Collaboration 2019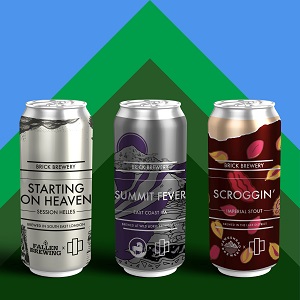 After months of planning, training and travelling up and down the country to breweries tucked away in hills of Wales, Lake District and Scotland, we are so excited to announce the launch of our 3 Peaks Challenge Collaboration project.
Born from our love of escaping South East London for the countryside and fresh air whenever we can, pushing boundaries and collaborating with like-minded breweries… we have collaborated with 3 breweries all located within close proximity to the 3 highest peaks in Scotland (Ben Nevis), England (Scafell Pike) and Wales (Snowdon). Those 3 breweries are Fallen Brewing , Hawkshead Brewery and Wild Horse Brewing Co. Ian said about the conception of the collaboration: "We love the areas in which the challenge takes place, and have long admired the work of some of the local breweries there. It was a no-brainer to team up with like-minded beer folk and concoct this series, inspired by the three peaks."
Staying true to form with all our special releases, we have worked with local artists from around each Peak to create 3 stunning label designs that relate back to each Peak and the beer inside. Released in 440ml cans, a percentage of each sale will be donated to the breweries' chosen charities. Allow us to introduce each beer…
Starting on Heaven, Session Helles 3.8%
Brewed in collaboration with Fallen Brewing. Inspired by that first blissful sip of a pint straight after a long hike, safe in the shelter of a warm and cosy pub, we've created a light and crisp Session Helles with Fallen Brewing. Super light, sessionable and approachable German-style Helles lager using Weyermann malt, its refreshing body has an added depth of citrus flavour from dry-hopping with Mandarina Bavaria and Idaho 7. Named 'Starting on Heaven' as our challenge begins at Ben Nevis, Gaelic translation: Mountain of Heaven. Artwork by Zain Kapasi and LemonTop Creative.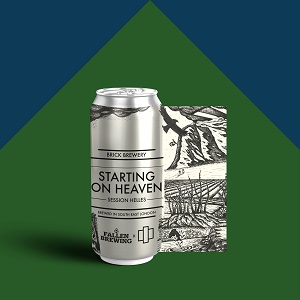 A percentage of proceeds from the sale of these cans will go to Start Up Stirling, a charity project focussed on relieving poverty, suffering and distress of people on crisis across Stirlingshire.
Scroggin', Imperial Stout 10.0%
Brewed in collaboration with Hawkshead Brewery. Inspired by 'scroggin'; a mixture of dried fruit, nuts, and other food eaten as a snack by hikers and typically known as scroggin in New Zealand, we used these elements and ingredients of the snack to create a deep and rich Imperial Stout. Flavours of chocolate, nuts, raisin will be apparent from fruity crystal malt, cacao nibs, pecans and peanuts with the addition of lactose to create a decadent and creamy mouthfeel to complement the high ABV and rich ingredients. Artwork by Bethan Thorsby.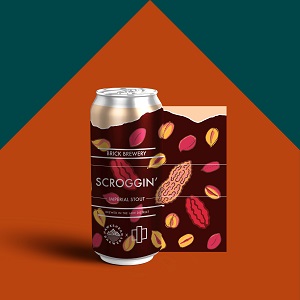 A percentage of the proceeds from the sale of these cans will go to Fix the Fells, a Lake District maintenance and preservation charity looking after the area's mountain paths and landscape.
Summit Fever, East Coast IPA 6.7%
Brewed in collaboration with Wild Horse Brewing Co. The perfect beer to kick back and celebrate after conquering Wales' highest peak, we headed to Llandudno to brew an East Coast IPA. The punchiness of Mosaic and El Dorado hops were combined with the heavily citrus and wine-like characteristics of Motueka and Nelson Sauvin, perfectly balanced by the soft fruit esters of London Ale III yeast. Artwork by Lee Owen and More Than Equal Studio.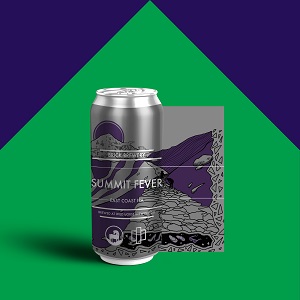 A percentage of the proceeds from the sale of these cans will go to Ogwen Valley Mountain Rescue Organisation, operating to assist those in difficulty in the area surrounding Ogwen Valley, Snowdonia, Wales and are completely volunteer-led.
The 3 Peaks Challenge
Not stopping there, we've taken the collaboration one step further and will be undertaking the 3 Peaks Challenge itself next Saturday 13th July! Starting at Ben Nevis and ending at Snowdon, we'll be attempting to climb all 3 peaks in 24 hours. We've been training hard, and are very much looking forward to celebrating each summit with cracking open each beer to enjoy (especially the Scroggin' Imperial Stout at the top of Scafell Pike on Saturday evening!). We've had so much fun collaborating to create 3 very special beers, travelling to new places and generally being inspired by the stunning surroundings these breweries are situated.
We will, of course, be heavily documenting our challenge across our social media from Friday afternoon until Sunday afternoon so please tune in and keep us going!
Launch Events
We will be officially launching these beers at our Taproom on Saturday 13th July… whilst we are halfway through our challenge, gasping for a beer and rest in a cosy pub, you can enjoy all 3 beers pouring at the Taproom from 12pm. We will also be holding 2 FREE tasting sessions throughout the day at 3pm and 5pm where you can try all 3 beers in a tasting session and Q&A led by one of our brewers. Find out more about each beer's journey and get a generous tasting measure of each.
No rest for the wicked, straight after we finish at Snowdon on Sunday morning a bunch of the challenge team will be heading to Jack in the Box at Mackie Mayor, Manchester for a well-deserved few beers and Tap Takeover. Brick, Wild Horse, Hawkshead and Fallen will be taking over their keg and cask lines and will include a keg of each of the collaboration beers. We will be there from 2pm so please come along, chat to the brewers and share a drink with us as we celebrate our achievement!
More details to come soon on where you can get hold of the cans where you are!