New release – Melange Imperial Stout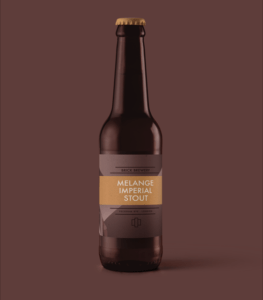 At Brick we believe in community. Whenever possible we try to work closely with local people, local events and local businesses. This Imperial Stout is no exception. We've collaborated with Isabelle Alaya from Melange, Peckham Rye's very own chocolatier, who has selected the perfect match from her range which will hang from this bottle. The chocolate complements the rich mouthfeel from the 7 malts used, the vanilla pods and cocoa nibs.
The label was once again designed by the talented, Iris Loi and her inspiration came from the 18th century when Catherine the Great of Russia was ordering huge quantities of Imperial Stout from London breweries. For her, it felt only felt right to have the visionary, intelligent, beer-loving leader be the foundation for her design.  Incorporating our love of Art Deco and our bold colour bands, Iris incorporated the brand colours of Melange and Brick perfectly to create this amazing fusion of brands.
The Melange Imperial Stout is best served at 12C to experience the full flavours, the beer is 8.6% ABV and with a 660ml bottle, ideal to be shared with someone.
Bottles are now available, check our social media channels for updated information on where you can buy them.