We are turning 4!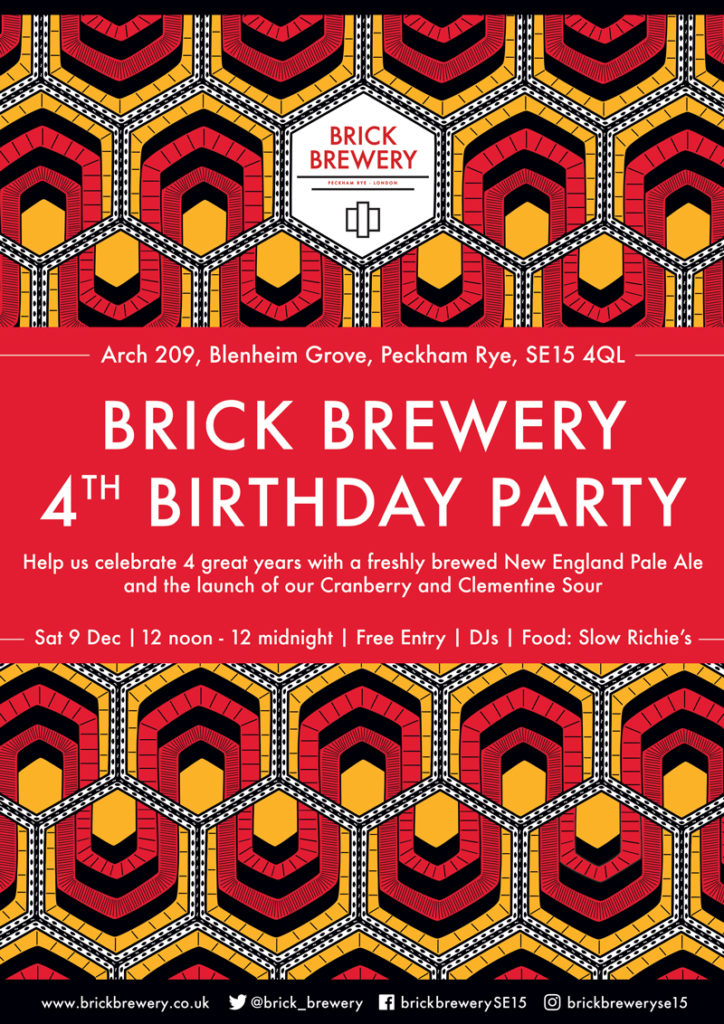 Can you believe that 4 years ago, our tap Room opened and we served our first beers?  It has been such a whirlwind and since day 1 we have been overwhelmed by the support of our community and beyond. This last year has been crazy, we have worked really hard to bring you all better beer, more beer and more experimental and special beers. We have started to build a really great team of people who are passionate about Brick and we have a solid bunch of bars/pubs/restaurants/bottle shops and customers, like you, who continue to be passionate about what we do as well.  So in celebration of everything over the past 4 years we are throwing a party to which you are all invited!!
This Saturday 9th December, the Tap Room will be hosting our 4th Birthday Party and we have some treats in store. We have not 1, but 2 very special beers for the occasion.  Brewed especially for the party, we have a New England Pale Ale which has heavy grapefruit and tropical notes.  Naturally hazy, it has a satisfyingly sessionable bitterness that keeps it refreshing with a smooth finish. We also have the launch of the 3rd in our Sour Series, Clementine and Cranberry Sour (yes we know on the poster it is the other way round!).  Tasting it last night it is a light cranberry colour, zesty and refreshing from the clementines with a hint of warmth from the fresh ginger. These are exclusives and won't be on general release until next week. There will also be a host of other Brick beers on offer as well.
We have extended opening hours from 12noon – 12midnight, with DJ's from 3pm and food from Slow Richie's with a special birthday burger to boot!  We will also be giving away a case of beer on the hour, every hour from 3pm to 11pm. To be in with a chance of winning you just show your pledge to our crowdfunding campaign and be entered into the hourly draws for free beer!  Please click here for more info and to pledge.
We have indoor and outdoor seating with heaters plus we are setting up our mobile bar inside! There are no tickets, it is free entry and everyone is welcome!  So please come down and help us celebrate a wonderful 4 years!