We are expanding!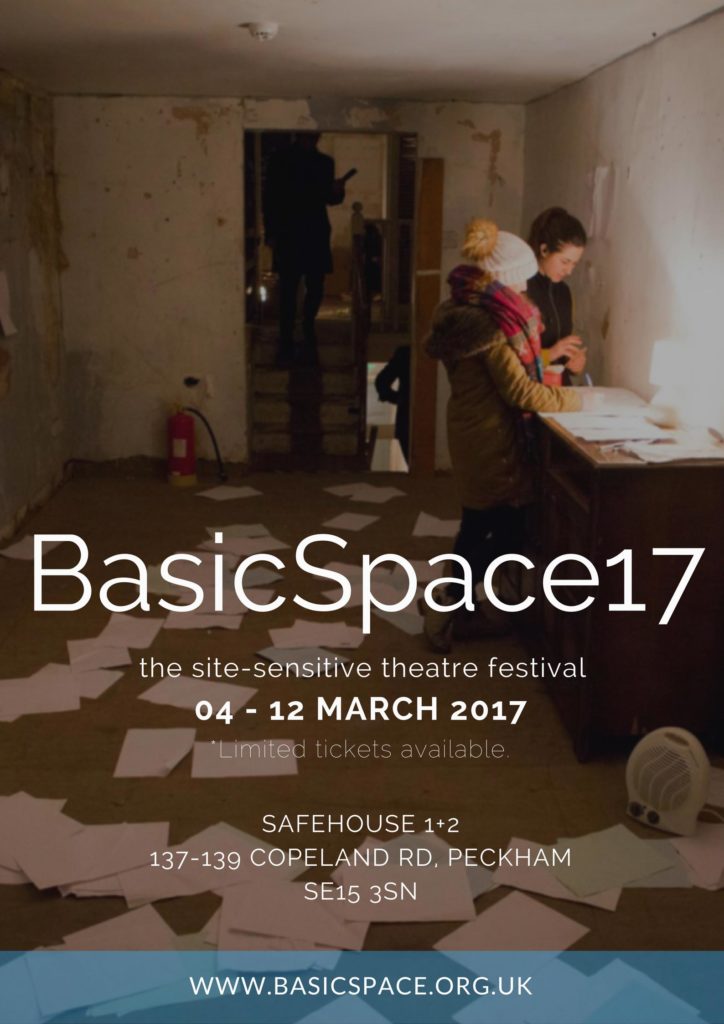 Wow, what a journey we have been on since we started Brick back in 2013.  We first of all had to find a location and we were determined to make our brewhouse right in the heart of Peckham Rye as that is where we live and this is the community we love.  It took a long time to secure our arch on Blenheim Grove and not because it was a difficult negotiation but because it is owned by Network Rail and if anyone has ever had to work with them, you know what we mean!  We were absolutely delighted to finally get our hands on Arch 209 and started with the mammoth task of changing it from a church to a working brewery.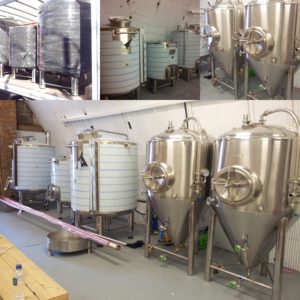 We had to do a lot of knocking down, some plumbing, building, painting, waiting (for 3 phase electrics) and more waiting (for lots of other things) and a lot of hours of sheer graft, just as our twins arrived – perfect timing!  But we gave it everything we had and when our 900L brew house was delivered with 2 fermenters, we loved them.
Ian started brewing and basically he did everything – brewed, sold, delivered, did the accounts and ran the Tap Room – looking back I have no idea how we did it, but we just did.  It was such a labour of love that our heart and souls were in it for the long haul.
Fast forward to summer 2015 and we were struggling to produce enough to fulfil orders. We couldn't take on any more accounts to ensure we didn't let our current accounts down. We had employed our first full time member of staff, Aidan.  We had built the Tap Yard and outside bar, Russell was helping Ian brew and we just had to expand.
Introducing our 3 new fermenters at 13bbl to increase our production.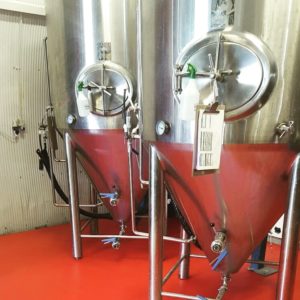 These helped tremendously and we started to branch out a little in SE London.  The Tap Room was amazing and the outside space was finished, we made some more seating, unique outside urinals (if you have been, you know what we mean), we finished the decking and we welcomed our permanent resident foodies, SlowRichies.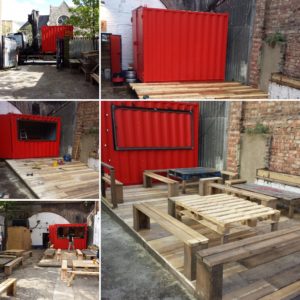 But we still couldn't produce enough and so in the summer of 2016, we got 4 more 16bbl fermenters and squeezed them into our space, doubling our capacity and maxing out the space.  We had no room for storage, no room for bottling, no room for any more growth and so we started looking for additional space.  We searched Peckham, driving round at weekends with the family finding locations, looking at sites, talking to estate agents but there was just nothing out there and so the area had to be expanded.  After a long search and a long process of negotiation we are super stoked to say that we have secured an additional site just down the road in Deptford!
We are most definitely staying in our arch in Blenheim Grove, Peckham but what we now can do is move the big production to our new site, freeing up space for the small brewhouse to do small batch and experimental brews.  It also means there will be more space for people to come and experience the brewery, understand more about how beer is made and enjoy our beers direct from the source.
As with everything, things take time and we are currently getting the space ready for our new brewhouse arriving in June.  Watch this space, we will keep you updated on the progress and we can't wait to start brewing bigger and better beer for everyone.
Cheers!