Taproom Exhibition: Yoshiko Phillips x Intoart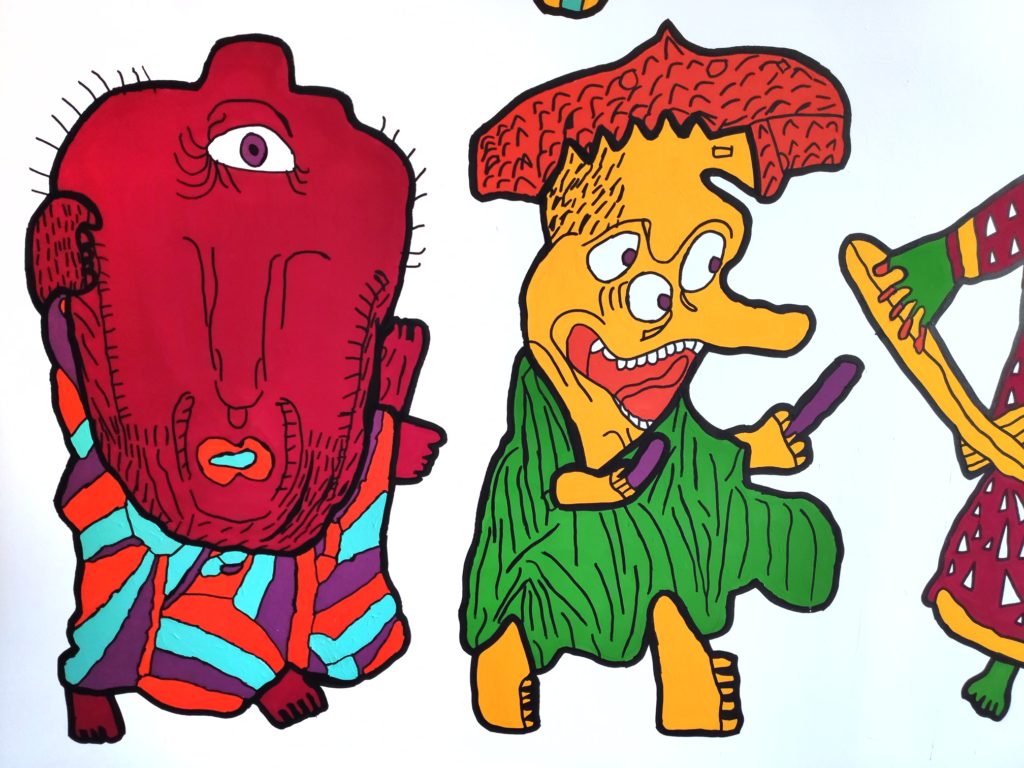 From Thursday 11th April we welcome back Intoart and Yoshiko Phillips for another mural exhibition on our Taproom wall. Yoshiko first exhibited her work on our Taproom wall back in April 2018 and we are so excited her bright and fantasical characters have found a home with us for the next few months.
Yoshiko Phillips
Yoshiko Phillips creates artworks that are full of merry characters, dazzling colour combinations and bold, calligraphic linework. Her practice has been inspired by a range of sources including traditional Japanese embroidery, Baroque architecture and the natural world.
Yoshiko has recently applied her unmistakable style to a number of design projects including a collaboration with prestigious knitwear designers John Smedley; a large-scale installation for the walls of Charing Cross Hospital, as well as creating a number of bespoke Intoart products and prints.
Her current body of work has been based around the study Japanese spirits, apparitions and monsters known as Yokai. Yoshiko has created dozens of characters for this project each one brimming with a mixture of charm and mischievousness. The mural at the Brick Brewery Taproom brings four of her favourite Yokai together in a stunning large scale composition. Yoshiko has been a member of the Intoart collective since 2015.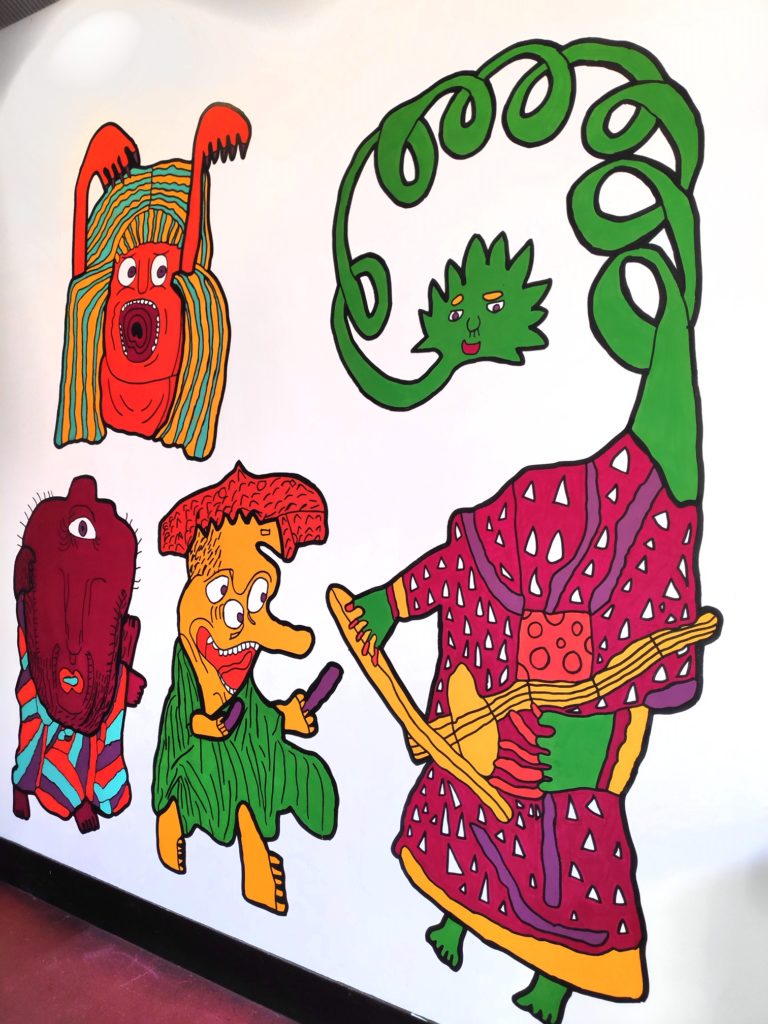 About Intoart
Intoart is an art and design studio working inclusively with people with learning disabilities practising as artists. The collective of 21 artists and designers work from their studio in Peckham, South London.
Intoart aims to provide a platform for people with learning disabilities to become both visible and equal in the art world – not merely applauded for participating, but recognised and respected as creatives in their own right. Since its foundation, Intoart has realised exhibitions, art commissions and research projects with contemporary art galleries and museums in the UK and internationally, including Victoria and Albert Museum, Tate, Southbank Centre and Whitechapel Gallery. Intoart's design studio spans illustration, product and graphic design, print, textiles, ceramics and fashion, resulting in distinctive product ranges, limited edition prints and creative collaborations.
Brick Brewery Printmakers Fair
To celebrate the launch of this new exhibition with Intoart and Yoshiko, we are hosting a Printmakers Fair for you to come and purchase screenprints, digital prints, greeting cards and t-shirts from some amazing local artists this Saturday 13th April from 1pm-5pm.
Prints from:
INTOART // MATHILDA DELLA TORRE // POLLY WILLIAMS // MICHELLE DWYER // HANNAH TOEHILL // WILL CLARKE // YUKIKO IKEHARA // EMMA LOU // LINDA SCOTT // RITA PENEDA // DALE CARNEY
FREE ENTRY! Enjoy browsing the stalls over a few pints and a Slow Richie's…
Find out more about the Printmakers Fair here
Find out more about Intoart and their brilliant collective here
Follow Intoart on Instagram 
Check out Yoshiko Phillips' and Intoart's exhibition from now until the beginning of June.