Stout Festival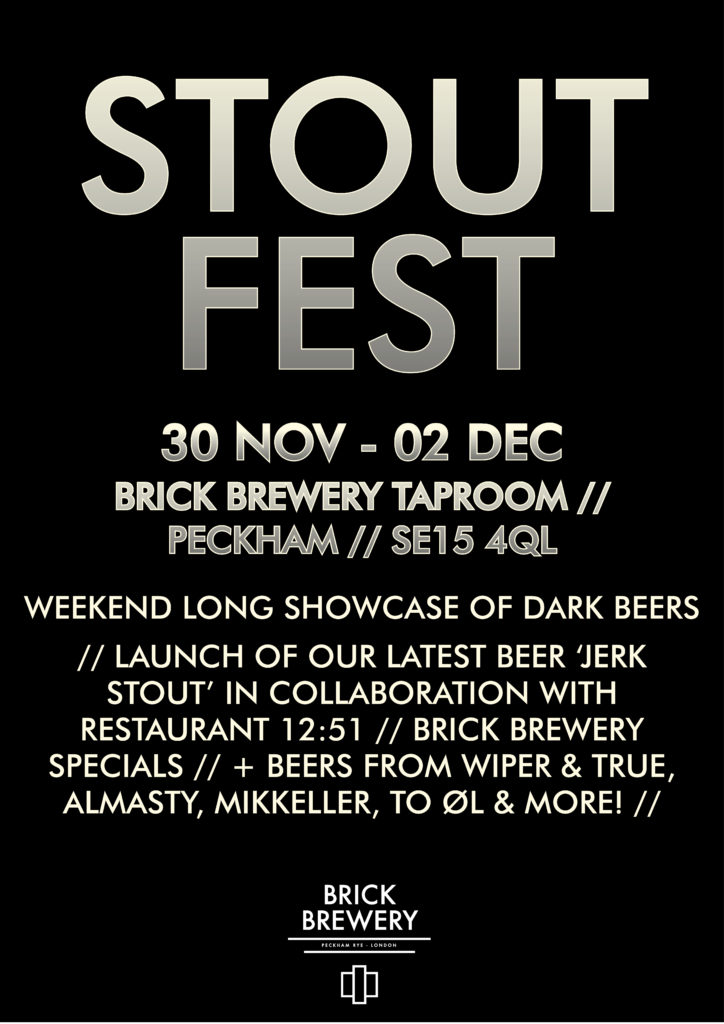 As the days get colder and shorter we're all finding ourselves reaching for the darker beers. To celebrate, we're holding a weekend-long Stout Festival to launch our latest beer; Jerk Stout (in collaboration with 12:51 restaurant) and showcase some amazing stouts from our favourite breweries – including our own Blackhorse Milk Stout and Fennel and Orange Imperial Stout.  Guest beers as below:
Wiper & True (Bristol, UK) – Milk Shake – A milk stout using sugar made
from cows milk to give the beer a sweet, creamy tone. Bristol breweries
were once famous for brewing the best milk stouts around.
Almasty (Newcastle, UK) – Chocolate & Caramel Stout – A bittersweet
pudding-in-a-glass beer with added caramel.
Northern Alchemy Dark Chocolate & Mint Milk Stout 5.1% – "A malt base of
Pale, Crystal, Chocolate, Roasted Barley and a handful of Oats. Gently
hopped on Bramling Cross and Pacific Jade. Lactose and 90% Cocoa Dark
Chocolate are added to the late boil. This Milk Stout is then
conditioned on a whole load of torn mint leaves."
CASK Wylam Macchiato 6.5% – Hazelnut Praline Coffee Porter… a complex
grain bill for extra body and mouth feel, lactose providing that
smoothness for a cold brew hazelnut coffee to shine through in this
winter warming porter.
*NEW RELEASE* Two Tribes x Wild Weather Ales (Kings Cross/Reading, UK) –
Pasila chillies give the beer a chocolatey, smokey and liquorice like
flavour. Earthy, full-bodied with a slight spice of cinnamon quills,
cassia bark and black cardamom.
*SPECIAL* Mikkeller (Copenhagen, DK) – Oatmeal Oregon Fruit Series Flat
White Cherry Stout – Fruity, Rich and Roasted.  This Flat White Stout
with Cherry was made in collaboration with Oregon Fruit and Coffee
Collective where they paired sweet cherries with Ethiopian coffee and
lactose to create a delicious and creamy stout!
*EXTRA SPECIAL* To Ol (Copenhagen, DK) – Goliat Maple Beacon –  Smokey
Imperial Coffee Stout matured with Bourbon soaked oak chips.
*EXTRA EXTRA SPECIAL* Gueuzerie Tilquin x La Rulles (BE) – Stout
Rullquin – 1 release per year, brewed since 2014. 7/8 of La Rulles Brune
and 1/8 of lambic, refermented in oak barrels at Gueuzerie Tilquin for 8
months. An exceptional beer that gently marries roasted flavors,
fruitiness and well-balanced acidity.
Stout Festival
Friday 30th November – Sunday 2nd December
Brick Brewery Taproom