Preferred Pronouns, 4.2%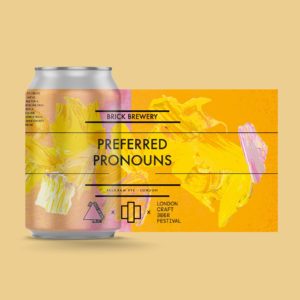 Preferred Pronouns, 4.2%
Preferred Pronouns, a Sour New England Pale Ale, is our latest collaboration brewed with The Queer Brewing Project. It's also the official beer of London Craft Beer Festival, which kicks off this Friday 9th August.
A Sour New England Pale Ale, this is a beer for fans of hazy, juicy pales and fans of tart, fruity sours. Using a brewing technique called back-souring, by separately brewing a New England Pale Ale and base kettle sour, and then blending them together we have had complete control over the level of acidity and overall balance of the beer. It's heavy with tropical fruitiness and extremely refreshing from the slight tartness to lift the juiciness and add a bit of bite. At 4.2% it's the ultimate tangy, fruity refreshment needed for the summer beer festival!
Preferred Pronouns also showcases a hop called Strata. Straight from Oregon, US; it brings layered notes of tropical fruit including; mango, passion fruit, fresh berry, and some citrus in the form of grapefruit. Along with this comes a dank herbal note. A fairly new hop into the market, we're very excited to be the first brewery in the UK to commercially use the hop in a beer. The Strata hops are complemented and supported by Vic Secret and Citra which add to the dank and citrus notes.
Launch Event
We will be launching and pouring Preferred Pronouns for the first time this Wednesday 7th August at Mother Kelly's Bethnal Green. We will be joining Lily in an evening of enjoying the beer, giving away some cans and merchandise, as well as a free tasting of the beer at 6pm with Lily and our Head Brewer, Pete. We will also be welcoming a representative from Galop, who will talk a bit more about the charity and the incredible work they do across the UK. Check out the Facebook event for the beer launch here.
From the name and artwork, to the final outcome of the beer every element of Preferred Pronouns has been a true collaboration of people, ideas and talents. Below is a contribution from Lily, founder of The Queer Brewing Project, which explains this further.
A word from Lily…
I was incredibly honoured to be asked by Greg, co-founder, of the London Craft Beer Festival, to brew the official beer of this year's festival. Having already been in conversation with the lovely Brick Brewery, it made complete sense to bring them into this three-way collaboration. 
Preferred Pronouns is already a beer that means a lot to me. From the reason it was brewed, to the vital work that it supports—Galop are the UK's largest LGBTQ anti-violence charity, to the beer itself, it's a beer heaped with meaning.
We asked our followers on social media to help us name the beer, and though we loved the frankly vast number of puns in the suggestions, one in particular stood out: Preferred Pronouns. Pronouns, whilst oft overlooked by many people outside of the LGBTQ community, are incredibly important, especially to those whose gender isn't the same as assigned at birth, trans and non-binary people. Whether they use he, she, they, or other pronouns, asking someone their preferred pronouns is an important sign of respect and consideration, especially when using the wrong one can cause so much harm. The Queer Brewing Project is as much a conversation-starter as it is a fund-raiser, so using a beer that will have a wide reach, as well as a platform at the country's leading craft beer festival, to raise the topic of pronouns, is a wonderful thing. 
Given that pronouns exist in both binary and non-binary formats (see those listed above), the artwork for this beer is a jumbled mix of the two. The label artwork comes from a digital painting I did whilst at art school (in nearby Camberwell), and comes from a period in my creative practice when I was exploring what gender meant to me through visual art. Originally in pink and blue, I tweaked the colours of the piece to fit with the tropical flavours of Preferred Pronouns, resulting in the summery blast of colour you see on the can. The label represents the beer, too: two distinct entities meeting and blurring together in an explosive, expressive manner; tropical, juicy NE Pale, and zingy kettle sour, merging to become something new.
Preferred Pronouns will be pouring across every session on our bar at London Craft Beer Festival… come say hi!
The 330ml cans will be available from our webshop later this week.