Our 5th Birthday Party!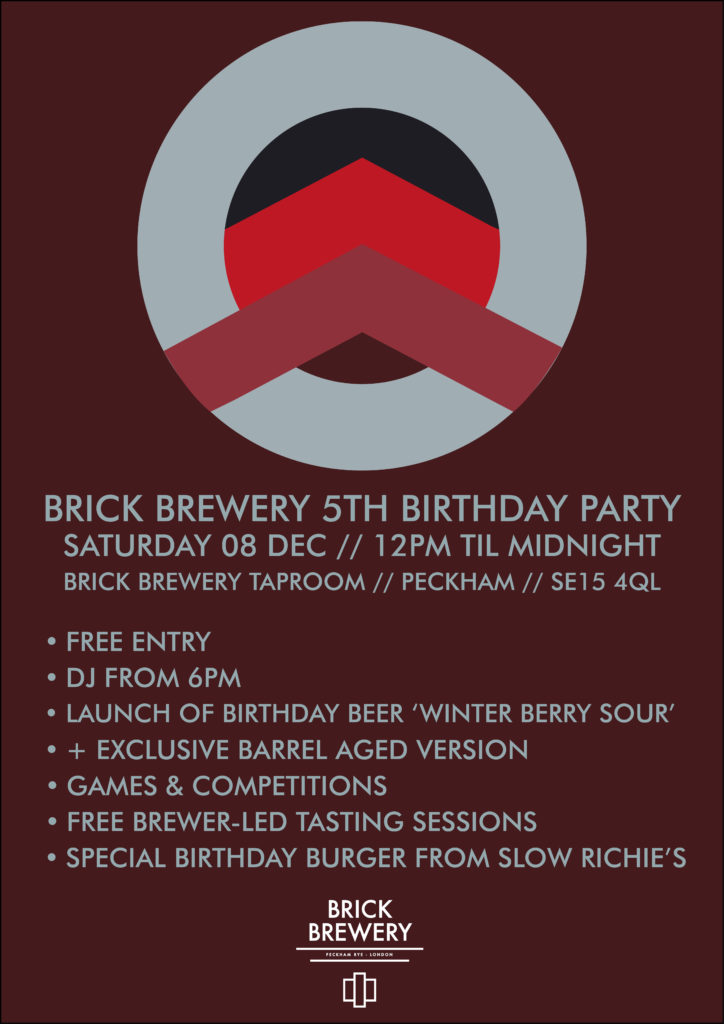 We are rounding off our week-long birthday tour with a massive party at the taproom on Saturday 8th December. Come and join us as we celebrate turning 5 years old!
12pm – midnight // Free entry // Family friendly // Dog friendly
DJ from 6pm – bring your dancing shoes!
Launching our latest sour to celebrate our birthday – Winter Berry Sour – a 7.2% Flanders red-inspired beer with additions of elderberries, sour cherries, blackberries and blackcurrants. PLUS a special Barrel Aged version which has been sitting in Côtes du Rhône barrels for a good few months (there is only 2 kegs of this reserved for the party and is sure to all go so don't miss out!)
FREE tasting sessions at 2pm & 5pm of our Winter Berry Sour – led by the boss man, Ian!
Slow Richie's will be flipping their usual amazing burgers with the special addition of a Birthday Burger for ONE DAY only! Using berries from our Winter Berry Sour for a special spicy chutney and anyone who was lucky enough to taste their macaroni cheese special last year may be in for a treat…
We'll be running games and competitions ALL DAY (including some kid-friendly activities) and be in the chance of winning various prizes.
We've been digging through the photo archives to display a special photography exhibition showcasing Brick Brewery's journey over the past 5 years.
PHEW! That about it? We think so… for now!
Lock in Saturday 8th December and come join us for a proper shin dig. The whole Brick Brewery team will be in in attendance… WE CAN'T WAIT!
You can book your space on the FREE Tasting sessions here
Saturday 8th December
Brick Brewery Taproom