New Collaborative Beer: Buraz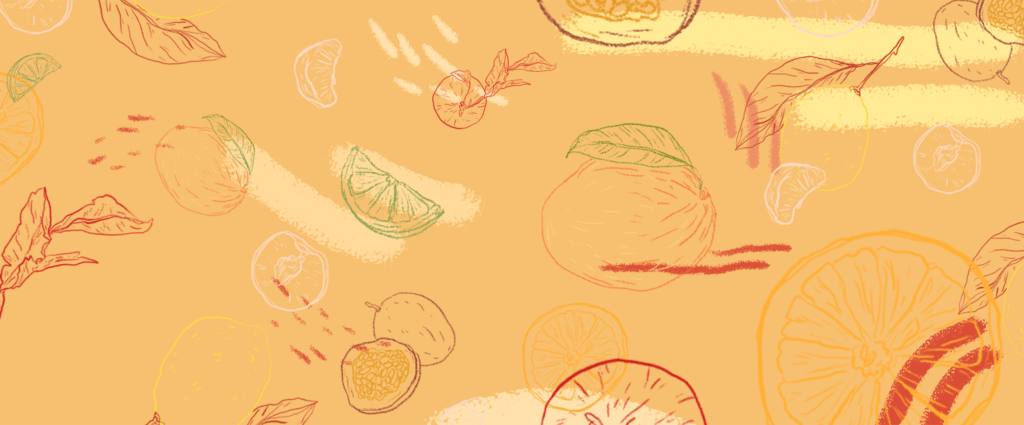 NEW BEER: Buraz, East Coast IPA
Back in February we welcomed Tom and Filip from The Garden Brewery to brew a reciprocal beer to our Rosehip and Wild Sorrel Sour collaboration Pete helped them brew over in Croatia last November. Buraz is an East Coast IPA which showcases a new hop in the market; Sabro. Sabro exhibits an intoxicating and complex blend of fruity and citrus flavors. It is described as an intensely unique hop, notable for its complexity of fruity and citrus flavors, including distinct tangerine, coconut, tropical fruit, and stone fruit flavors, with hints of cedar, mint, and cream. The combination of Sabro, Citra and Vic Secret hops resulted in a super juicy IPA with heavy notes of mango, passionfruit and a coconut sweetness.
Using a new local artist for these label designs, we sat down with illustrator and graphic designer Mathilda Della Torre to find out a bit more about herself and how she created this beautiful label for us!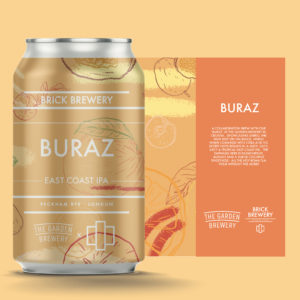 Hi Mathilda, tell us a bit about yourself…
Hello! My name is Mathilda and I am an illustrator and graphic designer, currently doing a Master's in Graphic Communication Design at Central Saint Martins. I love the sunshine, drawing, falafel, London, charity shops and any shade of pink. I use my practice as a way to look closer for longer, to portray how I see small portions of the world, to bring people together through creative exchanges and visual conversations and to position peripheral voices in the centre of our stories.
What is your background and where did you grow up?
I am half French and half Italian and I've been living in London for 6 years now. I moved around Europe quite a lot when I was growing up, so I tend to feel at home really quickly and almost anywhere. But right now London feels like home and I'm so happy here.
What does a typical day look like for you…
Porridge and coffee for breakfast.
Cycling to uni, preferably in the sunshine.
Working on projects both for my course and as a freelancer in our studio, library, canteen or anywhere else where I can focus.
Feeling hungry again 30 minutes after having lunch.
Having a few breakdowns and sometimes (rarely) having a creative breakthrough.
And then ideally going home or out and doing something nice with friends or family. But more realistically, doing emails and more admin at home and then going to sleep very early.
How do you like to work?
By putting people at the centre of my practice, and by always working with or for people whose ethical values align with mine. I only realised how much I liked collaborating with others pretty recently, but there's something really fulfilling about exchanging and challenging each other's ideas, combining skills and creating something that has little bits of everyone. Whether that is to illustrate a label for a beer that people will share together or to create a set of workshops based on exchanges and visual exercises on our perception of India after travelling there. I'm also part of a design collective called 'On The Mend', and we are committed to improving health and wellbeing environments. At the moment, we are focusing on creating events that educate the public about current health topics through the use of design. This is definitely the way I love to work.
Find out more about On The Mend and their projects here: onthemend.me/
What/who inspires you and your work?
As cliché as it sounds, I'm inspired by my environment and everything that is happening around me, which is why I'm slightly obsessed with traveling and constantly living in new places. These are some of the things that have recently really inspired me:
Travelling to Jordan.
Reading 'Breaching Borders: Art, Migrants and the Metaphor of Waste' by Juliet Steyn.
Watching (again) 'Human Flow' directed by Ai WeiWei.
Listening to Maggie Rogers' new album 'Heard It In A Past Life'.
Seeing Grace Wales Bonner's 'A Time for New Dreams' exhibition at Serpentine Gallery.
Reading Migrant Journal Issue 1 'Across Country'.
Discovering the charity Headway East London and the Submit To Love Studios (a collective of artists who have survived brain injuries).
Going to a talk by Elif Shafak.
Where or what is your favourite spot in South East London?
I studied my BA in Illustration at Camberwell College of Arts, so I spent 3 years exploring South East London. I loved living there and I have made so many memories there. These are a few of my favourite places:
The food at Persepolis in Peckham (and the friendliest staff).
The beer garden at Duke of Edinburgh in Brixton.
The prints in Studio 74 in Brixton Market (I sell some of my screen prints there too!).
The view from Frank's Cafe at Bold Tendencies in Peckham (eagerly waiting it for it open again in the summer!).
The Traid charity shop in Peckham.
The gallery space and book shop at South London Gallery in Camberwell.
Find more of Mathilda's work here:
instagram.com/mathildadellatorre/
Join us on Friday 22ndMarch as we launch Buraz at the Taproom before general sale on Monday 25thMarch. We are holding a FREE tasting session to taste both the Buraz and Citrus Sour, lead by one of our brewers to find a bit more about the beers. Get your ticket here.
The Taproom is open as usual all weekend to try the beer exclusively too!