New Beer: Lime and Habanero Pale Ale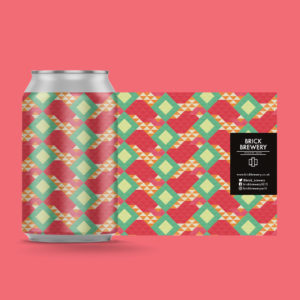 Lime and Habanero Pale Ale, 4.4%
Brick Brewery has always had a personal affiliation with Mexico and the flavours of Central America. Ian once owned and ran a Mexican street food truck before starting Brick and many of the team have travelled extensively throughout that area of the world, bringing back fond memories of food and flavours. We've finally put this nostalgia into a beer with the release of our latest special beer; Lime and Habanero Pale Ale.
Using HBC 472 hops, an experimental Neomexicanus hop, its aroma this hop brings are considered unique additions to a beer. Initially earthy with notes of coconut, the finish delivers a surprisingly fruity note, perfect for adding depth of flavour.
Commonly used in Mexican cooking, fresh habanero chillies were to the whirlpool and FV to impart their sweet, fruity and mild spice flavour. The addition of fresh lime zest adds a refreshing lift to the hops and mild spice to bring a recognisably Mexican flavour. Using primarily HBC 472 hops has resulted in a Pale Ale that has a juicy, tropical fruit flavour with very little bitterness.
Lime and Habanero Pale Ale will be available for trade sales Tuesday 22nd April and launched at the Taproom Sunday 5th May.
Cinco de Mayo
To coincide with the launch of our Lime and Habanero Pale Ale, we are a Cinco de Mayo day on 5th May. A celebration of Mexican heritage, there will be loads of activities and entertainment throughout the day for all the family:
LIME & HABANERO PALE ALE LAUNCH 🌶🍋
MEXICAN CRAFT BEER SHOWCASE 🍻
PIÑATAS WITH TAPROOM VOUCHERS AND OTHER PRIZES INSIDE 🎉🎊
SALSA (SAUCE) COMPETITION AND TASTING JUDGED BY SLOW RICHIE'S … WIN A £50 BAR TAB! 🍅🌶🔥
Salsa Sauce Competition
Think you make the best salsa? We're having a salsa-off to find the best salsa maker in South East London! Bring along a bowl of your home-made salsa to the Taproom to be tasted and judged by customers throughout the day and, finally, judged by sauce kings; Slow Richie's to be in the chance of winning a £50 Taproom voucher! Simply drop off your salsa to the Taproom on Sunday 5th May by 1pm.
Email nadia@brickbrewery.co.uk to register your salsa entry by the 3rd May or fill out a form when you're next in the Taproom!
Keep up to date with the Cinco de Mayo event here