Let's Celebrate our 223rd brew!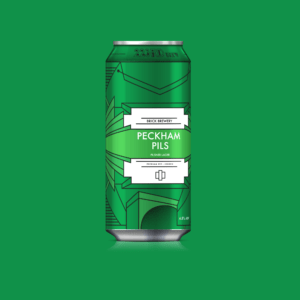 Peckham Pils has been with us since we started in 2013 and continues to be our flagship beer.  We were one of the first London micro breweries to produce this style.  We now produce 10 times the beer we started out making and so we thought sod it, let's celebrate.  So behold our commemorative 223rd brew in a special limited edition shrink wrapped, 500ml can.
Designed by local artist and graphic designer, Iris Loi, through a collaboration with Peckham Platform, a creative and educational charity based in Peckham, it ensured that we supported and celebrated our local community, who are incredibly important to Brick, plus got a gorgeous design to boot.
Why 223rd?  Well by the time we thought of the idea we had already bypassed 200 and we simply couldn't wait to 250!
Available on Saturday 11th March 2017 exclusively at the Tap Room and from 4pm at our good friends Hop Burns and Black alongside myself of course for a tasting, and then from selected bottle shops, bars, restaurants from Monday 13th March 2017.  You can also join us on Friday 17th March for a tasting session with one of our brewers at Salthouse Bottles in Brockley, London.
Also, check out the amazing stuff happening at Peckham Platform
and our fabulous graphic designer Iris Loi
Hope you enjoy it!
Ian