Brick's Birthday Tour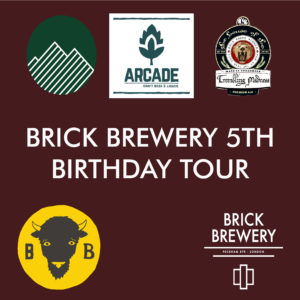 We're setting off on a week-long tour to various venues across the UK. We're so excited to be hosting events at venues outside of London who have supported us in many ways over the past few years!
All venues will be showcasing our newest beer; Winter Berry Sour and an exclusive Barrel Aged Winter Berry Sour version- of which there are only 1 keg for each event! Members of the team will be attending each event to chat, play games (of which there are many prizes up for grabs!) and generally celebrate our 5th birthday at these awesome venues.
Check out our Facebook events page for more details on each event:
Tuesday 4th December: Meet the Brewer Tutored Tasting @ Nord Bottle Shop, Newcastle (Ticketed)
Wednesday 5th December: Tap Takeover @ Arcade, Huddersfield
Thursday 6th December: Tap Takeover @ House of Trembling Madness, York
Friday 7th December: Tap Takeover & Beat the Brewer Evening @ Bison Beer Crafthouse, Brighton
Saturday 8th December: 5th Birthday Party @ Brick Brewery Taproom, London
Brick Brewery Birthday Tour
Tuesday 4th– Friday 7th December
Various Venues