Brick x Hop,Burns & Black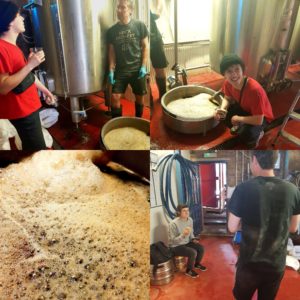 We are super excited to be collaborating with one of our favourite bottle shops and neighbours, Hop, Burns & Black to help them celebrate their third birthday at the end of November.
The HB&B Hoppy Trinity sees the Hop Burns & Black team pair up with Cloudwater, Fourpure and yours truly to create, respectively, HOP, BURNS and BLACK beers. They have also partnered with our resident foodies, Slow Richie's to create a new hot sauce called DESPACIO.
The Trilogy sees Cloudwater doing their HOP best by creating the DDH Pale XXXX which is a double dry hopped pale ale rammed with New Zealand hops, Fourpure creating a BURN(s) with a Mango & Habanero Red Ale and Brick getting the dark side and creating BLACK with a Blueberry & Vanilla Stout.
We are hosting the launch and third anniversary party at the Tap Room on Friday 24th November and all the trilogy will be available plus in store and online from HB&B and other quality beer destinations.