Brew York x Brick v2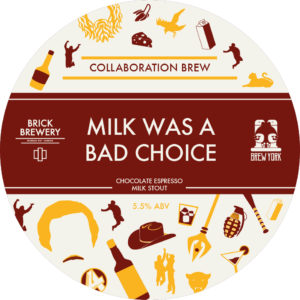 Milk was a Bad Choice is our second collaboration with Brew York, this time brewed on their kit up in York.   This is a chocolate espresso milk stout which tastes absolutely amazing.
Available in keg and cask, this is launching this Friday 13th October at the Tap Room.  Come down from 5pm where you will be able to taste this beauty exclusively before its general release next week.  Wayne and Lee from Brew York will be there alongside Ian and the rest of team Brick. So come down, say hi and enjoy this Milk stout, it most definitely will not be a bad choice.
Keg badge designed by Tom Sutcliffe